Undoubtedly, Singapore is an exemplar of luxurious living style and modern era culture, located in Southeast Asia and at the northern tip of the Malay Peninsula. It is a sovereign island city-state known for its remarkable architectonic artistry and lavish lifestyle. One of the world's finest buildings, towers, bridges, flyovers, resorts, shopping malls, and hotels are there that presents the advancements of this city-state in the world. It is one of the cleanest places in the world where you can be penalized for spitting here and there, public urination, and sticking chewing gum anywhere. The rules and laws are very strict here to maintain the atmosphere of the city-state. It is an exemplar of the finest artistry of human beings on this planet. It has been a dream for many people to visit Singapore and explore the lavishness and luxurious lifestyle of this city-state. If you are lost in your dream then it is the time to wake up and grab an opportunity to visit Singapore in your honeymoon packages of Singapore. We at Overseastravelsolutions.com prepared a list of best places in Singapore for travel passionate where you can visit and enjoy.
The Majestic Marina Bay Sands Singapore
Las Vegas Sands Corporation has redefined the meaning of luxury and lavishness by representing Marina Bay Sands Singapore in the global market. It is an incredible integrated resort and the world's one of the most expensive properties in Singapore. A huge number of tourists from different nationalities visit Singapore to watch the blazing beauty of Marina Bay Sands and living in a deluxe hotel and getting all the premium services. It is a perfect destination for newly married couples to plan their honeymoon in this premium integrated resort with international honeymoon packages. If you have enough money in your pocket and you want to experience luxury living then you must visit Marina Bay Sands Singapore in your honeymoon packages of Singapore. You must book a room in Marina Bay hotel to watch and enjoy all the human-made majestic properties within Marina Bay Sands. By booking a room in the hotel, you will get an opportunity to swim in the infinity pool (Glass pool) which is located on the roof of the Marina Bay You just can't imagine the marvelous Marina Bay Sands even in your dreams, we made it affordable to visit with your honeymoon packages of Singapore.
Hang Around in the Gardens by the Bay in your International tour packages Singapore
Gardens by the Bay is an incredible and mesmerizing destination in Singapore that you must visit at least once in your life. It is an amalgamation of three gardens named Bay Central, Bay East, and Bay South located across 101 hectares of the landfill in the central region of Singapore and abutting to Marina Reservoir. Bay South is the largest garden among all three gardens and its flower dome is the most popular and largest glass greenhouse in the world. Indeed! It is a unique and incredible experience to watch the transcendent artistry of this expanded garden. The dazzling supertrees and flower dome look wonderful under the darkness of night. If you want to watch the real luxury of Singapore, you must visit Bay South garden in the night in your honeymoon packages of Singapore. Gardens by the Bay was the vision of Singapore to transform the "Garden city" into "City in a Garden" and today it is the icon of the nation. It is the foremost tourist destination in Singapore that attracts millions of tourists from the world in a calendar year.
The Fantasy World: Universal Studios Singapore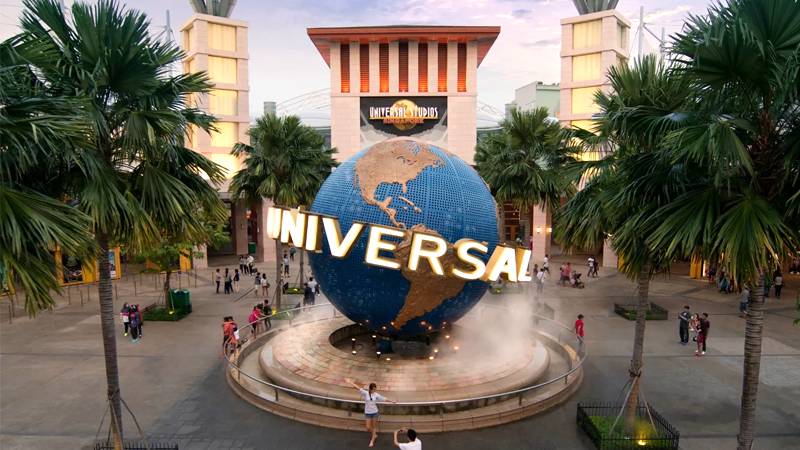 Universal Studios Singapore is the true wonderland in the earth that cannot be compared to any other wonderland in the earth. It is the only theme park in South East Asia, located on Sentosa Island, Singapore. One of the largest theme parks in the world that gives an experience of the true fantasy world that always was a dream in our childhood. We suggest you to must visit this exotic wonderland with your family and experience the different feelings of the fantasy world that you may watch in Hollywood films. You will definitely be delighted to watch the gigantic artificial creatures and meet & shake hand with the famous Hollywood characters like Elmo from Madagascar. This theme park has 24 rides, shows, and attractions within seven themed zones; you can enjoy having rides and watching the colorful shows on peak days (Friday, Saturday, and Sunday). You must visit this wonderland on peak days so that you can experience true beauty.
Visit the Wildlife Park: Singapore Zoo
Singapore Zoo is the pride of Singapore expanded across the 28 hectares of the land and operated by Wildlife Reserve Singapore. It is one of the world's best and award-winning wildlife parks known for protecting a huge number of animals, birds, and mammals of different breeds. This zoo offers a free and fearless forest to all the animals to freely hang around without any fear. It has been consistent to attract a huge number (1.7 million) of international tourists in a single calendar year and a prominent contributor to the economy of Singapore. At OverseasTravelSolutions.com, we recommend you to must visit this wildlife park and watch the activities of those animals you have never seen before in your life.
Other Tourist Destinations in Singapore
Botanic Gardens
Orchard Road
Singapore Flyer
Chinatown
Sentosa Island
Clarke Quay
Night Safari Singapore
Merlion Park
Asian Civilisations Museum
The Maritime Experiential Museum