Himachal Pradesh is the charismatic beauty of the nation and the most gratifying and pleasant place to visit ever in India. This state is one of the remarkable inherent exemplary of The Incredible India which is surrounded by sheer and serene natural beauty. It is absolutely a feather on the cap of Indian tourism. The snow-capped heights and lush green mountains are a portrait of its divine nature that shows the reflection of paradise in the earth. The fragrance of flora makes cheerful the ambiance of this hill station with blowing wind. The colorful cultural heritage and the wonderful adventurism are the sterling charms of this beautiful state and this is the reason behind the magnetic attraction of international and domestic tourists. We at overseastravelsolutions.com, guide you to the iconic tourist destinations in Himachal Pradesh offering exciting deals in domestic tour packages Himachal.
The Iconic Shimla:-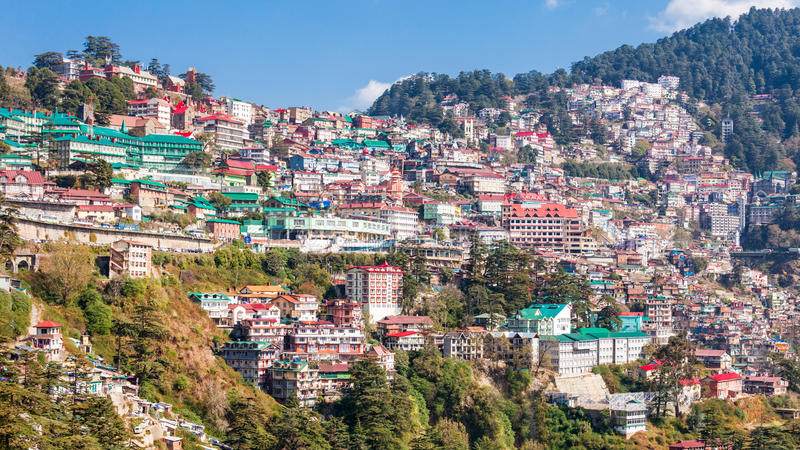 Shimla is the most popular and adorable hill station in Himachal which is surrounded by lush greenery and dense mountains. The picturesque and spellbinding beauty of the capital city of Himachal Pradesh is one of the major reasons behind the attraction of a huge number of domestic and international tourists towards the territories of the state. It welcomes millions of excursionists from all around the globe every calendar year which is a milestone itself for Himachal tourism. This is the largest and one of the most crowded cities in the state and known for its colonial buildings, captivating natural beauty, snow-capped mountains, scenic views, shopping centers, and fascinating adventurism. So many ideal tourist destinations are there that hosts and entertain excursionists and make their day memorable. We will suggest a few magnificent places in Shimla; you shouldn't miss in your domestic tour packages Himachal.
Mall Road: The Busiest Place
The mall road is one of the busiest streets in Himachal Pradesh which is known as a most lovable and exhilarating emporium. It is popular as well as the populous destination where tourists love to hang around and buy attractive and useful products. You can find and purchase several handicrafts, wooden decorative items, furnishings, hand-made woolen clothes, locally designed items, branded clothes, and pottery items. If you are excited to add The Mall Road in your itinerary then you will also have a chance to visit the beauty of Scandal Point, Gaiety Theater, Kali Bari Temple, and Town Hall which are an integral part of The Mall Road.
Add The Ridge in Your Itinerary of Domestic Tour Packages Himachal
The Ridge is the center point of attraction for tourists in Shimla which is situated along the mall road. It connects with a few major tourist destinations in Shimla that includes Jakhoo hill, Lakkar Bazar, Scandal Point, and The Mall Road. It is a large open place that molds into a romantic and couple-friendly point when the sun slowly set down. You can watch and feel the spellbinding views in the evening with dense mountains covered up by orange horizon, and light sun rays. You can also enjoy and learn the cultural values and ethics of the residents by watching different cultural activities at the ridge. If you ever visit Shimla through your domestic tour packages Himachal must go to the ridge and you will be able to hang around all the connected tourist destinations which will save your money, travel and time.
Jakhoo Temple: Find Serenity on the lap of Hanuman Ji
Jakhoo temple wholehearted welcomes a huge number of pilgrims and travelers every year and ignited their heart and soul with sacredness. It is an ancient temple situated at Jakhoo hill which is surrounded by mountains and forests. As per the beliefs of residents and Ramayana, Hanuman Ji took some rest at this place while he was searching SanjivniBooti for Lakshmana. Hence, this temple was founded at this place. You can also bow down to a gigantic idol of Hanuman Ji that can be seen from miles away. We recommend you to visit this sacred place and explore this wonderful place.
Captivating Kasauli: Crush of Travelers
Kasauli is a captivating cantonment area and a small hill station situated in Solan district, Himachal Pradesh. It is one of the ideal destinations for holidays primarily for students and adults who are studying and living in Chandigarh as it is quite closer to Chandigarh. They love to go and hang around enjoying the captivating beauty of Kasauli. Also, people from different nationalities and origins visit this city to experience the absolute serene ambiance which provides the utmost calmness. Apart from loving natural beauty, here you can experience adventurism through the long and thrilling hike and ride throughout the dense mountains of Kasauli. You must visit the below-mentioned places while going on your Himachal Pradesh domestic tour packages in Kasauli.
Monkey Point, Kasauli
Sunset Point
Timber Trail, Kasauli
Sightseeing in Magnificent Manali
Manali is one of the least populated cities in Himachal Pradesh situated in the northern part of Kullu valley. It is one of the precious heritages of the state which offers numerous beautiful and captivating places for tourists. You cannot stop delighting at any moment by visiting thrilling and exciting places in Manali surrounded by hills, woods, and flora & fauna. Overseas Travel Solutions suggest you to must visit the below-mentioned places in your domestic tour packages Himachal.
Rohtang Pass
Manali Sanctuary
Museum of Himachal Culture & Folk Art, Manali
Hidimba Devi Temple
Van Vihar
Solang Valley
Dalhousie: A lot to Dare
Dalhousie is a small hill station surrounded by five hills and famous for panoramic views and the beautiful valleys. It is a picturesque place where you can find pine and oak forests everywhere and experience the charm and essence of nature. Like other cities of Himachal Pradesh, you can also see colonial building structures in this small hill station and recall the British ruling era. The St. Francis Church and St. John's church are prominent monuments of Dalhousie which are founded by the British. Both churches are exemplary of the finest workmanship. You must visit these churches to understand and learn the past of Dalhousie. There are also a few exciting places which you should not miss to visit including:
Kalatop Khajjiar Sanctuary
Dainkund Peak
Khajjiar Lake
SubhashChowk